In October and December 2011
FC Kolkata joins the national trials for the FC Bayern Youth Cup - one in Dehli and the other in Mumbai.
Many talented young players from all over India were mixed togehter and took part in a series of football training sessions and friendly matches.
The best participants were formed into two teams.

We are very proud that five of our players were selected to play at the FC Bayern Youth Cup in January 2012:
Suman, Suraj, Sudhir, Banti and Raja


Arjen Robben and Suman Deb in Delhi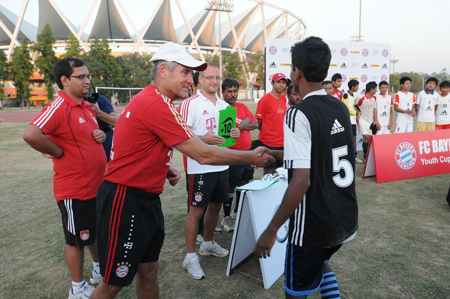 Werner Kern and Suman Deb in Delhi


On the 10th of January 2012
FC Bayern Munich plays against the national team of INDIA at Nehru stadium in Delhi.
The two top teams from Mumbai & Delhi Youth Cup have a match before the game starts.

Among the two teams:
Five players from FC Kolkata!
Click here to read the Essay of Suraj about the Cup